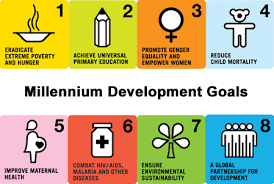 The Millennium Development Goals (MDGs) were eight time-bound goals providing concrete, numerical benchmarks for tackling extreme poverty in its many dimensions.
The MDGs included goals and targets on income poverty, hunger, maternal and child mortality, disease, inadequate shelter, gender inequality, environmental degradation and the Global Partnership for Development.
Adopted by world leaders in the year 2000 with the attention of being achieved by 2015, the MDGs were both global and local, tailored by each country to suit specific development needs. 
The eight MDGs below in turn broke down into 21 quantifiable targets that were measured by 60 indicators.