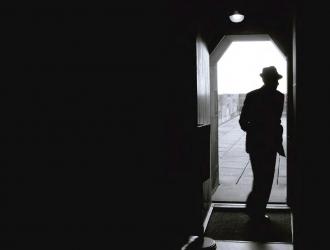 So come, my friends, be not afraid.
We are so lightly here.
It is in love that we are made;
In love we disappear
You tried, in your way, to be free. Thank you. Now go join that great gig in the sky. So I wrote a year ago, when Lenny left us. However, the legend lives on - listen for example to How the Light Gets In.
'We Love Leonard Cohen' celebrated his 81st Birthday, and then, for his 82nd and final birthday, Leonard gave us a present. "You Want It Darker" is the title track to last album, his 14th studio album in his 49-year recording career. (See also Leonard Cohen Makes it Darker.)
"Leonard Cohen offers the possibility of living with grace, dignity, and integrity, without submitting to illusions, without succumbing to indifference, and without indulging in denial of our own failures and flaws, in a world that is too often corrupt and malevolent" - Allan Showalter