Issues
On Theodore Zeldin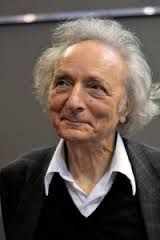 Halcyon In Kal…
1 August 2018
Theodore Zeldin re-iterated his belief in the powerfully transformative role of conversation:
"Individuals are no longer what they used to be, each is unique. That makes a big difference to how they work. Each one is an enigma. There are six billion people whom we need to discover. We are now in the same position as the scientists of the last century, discovering the different elements and molecules of the natural world. So there is no need to feel lost or aimless. There is a wonderful adventure before us."
What's Changing? - Issues
Halcyon
8 June 2018
Listed below are many of the key issues affecting us all in our daily lives. Click on the links to see how Halcyon is monitoring and intepreting recent developments and emerging trends for each issue, and please contact us if you'd like us to help you monitor or analyse any of these issues more systematically.
Lenses
Topic:

I-Site:

Levels:

Timelines:

Spaces:

Signifiers.
Scopes