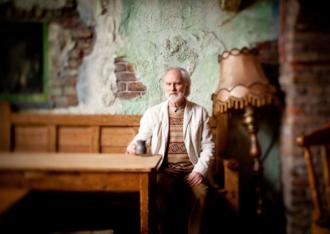 And the town label makers stare down with their gallery eyes
And point with computer stained fingers each time you arise
To the rules and the codes and the system that keeps them in chains
Which is where they belong with no poems no love and no brains 
- from McGoohan's Blues
OCTOPUS part 9 by Adam Leonard
Happy 80th birthday on 12th June 2021 to "the great Roy Harper".
Wonderful to watch Roy entrance a packed London Palladium in March 2019 and very sorry that the pandemic caused him to postpone his 80th gig at The Royal Albert Hall in 2021.
Roy is, for me, among the most singular poets of this or any age, someone whose songs and messages have been with me, through all emotions, for more years than I care to remember. 
Welcome back, Roy; hopefully you've got many years of creativity still ahead; after all, my other great musical hero, Leonard Cohen, was was still going strong beyond 80 until his death in late 2016. Indeed, great to see one true genius recognising another.  In "Uncut", Roy chose his 10 favourite albums. Under the sub-heading "The Perfect Record for a Mid-Life Crisis", he picked Lenny's "I'm Your Man" and had this to say about it: "What a great record - and what a crisis I had. Cohen is the best songwriter of them all. I don't think I'm overstating that. He has the spirit and is a man who cares about his poetry more than any other songwriter that I know."
Roy was honoured by Glastonbury Festival founder Michael Eavis at the 2013 BB Folk Awards. Great to see this truly unique talent finally getting some of the five-star plaudits he has long deserved. Roy's latest (hopefully not last) concert at the Royal Festival Hall in London in October 2013 did not disappoint. Roy followed this up with a session on 6 Music.
After a three-year hiatus, for unfortunate reasons well documented elsewhere, Roy returned in triumph to the Royal Festival Hall in September 2016.