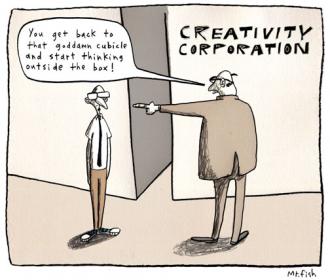 "I have no reader in mind - the reader is me as I re-read" - Philip Roth
Roth's words resonate, and feel comfortable, to those of us who are still, slowly working ourselves out on the page.  We don't necessarily need comments, feedback...not yet, anyway.
However, as Oliver Wendell Holmes once said, "many people die with their music still in them", so to avoid that sense of feeling, ultimately, unfulfilled, perhaps we should urgently try and find ways to create an authentic outward expression of the inner one, even whenthat vision is problematic, or even nightmarish, as in Hieronymus Bosch's Garden of Earthly Delights in the Prado in Madrid.
See also: