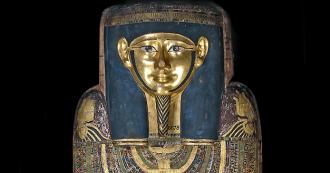 A History of the World was a partnership between the BBC and the British Museum, involving schools, museums and audiences across the UK. One can listen to and download all the episodes of the radio series A History of the World in 100 objects.
One hundred 15-minute programmes, each focusing on an object from the British Museum's collection told a history of two million years of humanity through the objects we have made, starting with the earliest object in the museum's collection.
My personal highlights included the following:
1. Mummy of Hornedjitef (-260BC, Egypt): status, legacy, journey beyond death (see image).
2. Olduval Chopping Tool (-2m, Tanzania): adaptable, can skin and butcher animals