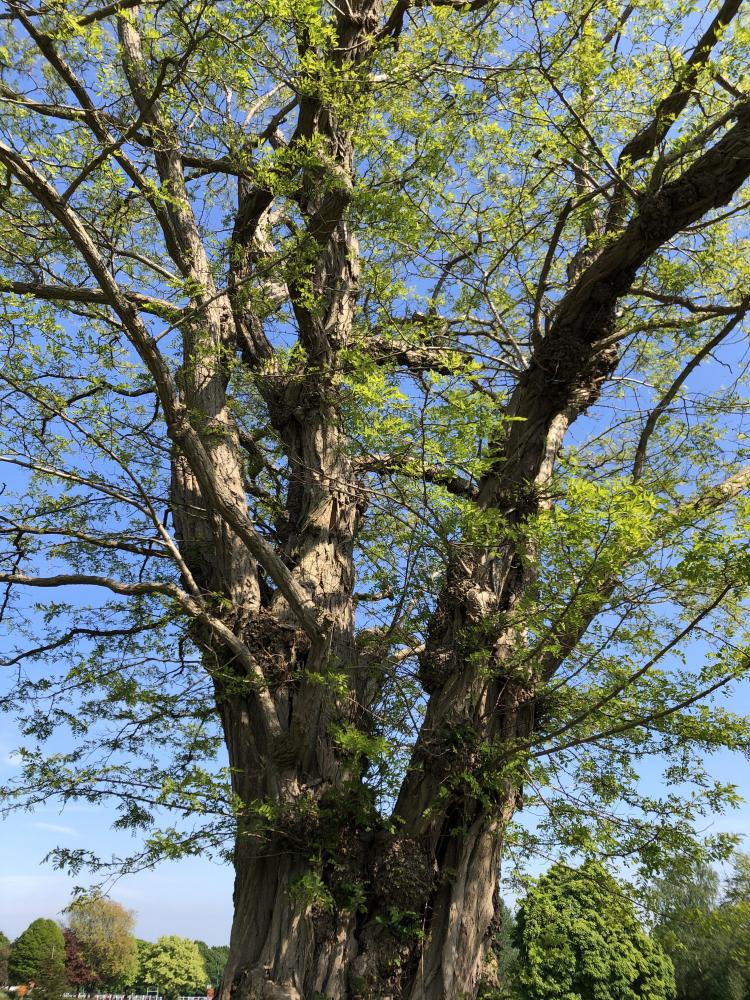 "I wonder about the trees," Robert Frost wrote. Monumental in size, alive but inert, they inhabit a different temporality than ours. Some species' life spans can be measured in human generations. We wake to find that a tree's leaves have turned, or register, come spring, its sturdier trunk. But such changes are always perceived after the fact. We'll never see them unfold, with our own eyes, in human time.
Walt Whitman saw in trees the wisest of teachers and Hermann Hesse found in them a joyous antidote to the sorrow of our own ephemerality, notes Maria Popova, who also points to the inspirational work of Wangari Maathai, the the first African woman to win the Nobel Peace Prize, awarded for her triumph of promoting "ecologically viable social, economic and cultural development" by founding the Green Belt Movement, and responsible for planting 30 million trees and empowering women to partake in social change. 
There is even a Green Man-like "Thinking Tree" in Puglia, Italy.
No one has been able to capture this 3,200-year-old tree in one image before – until now.
2021
The 'messy' alternative to tree-planting explained the value of natural forest regeneration. Distinct from active tree-planting, trees are allowed to grow back spontaneously, or with limited human intervention, on land where the original forest cover had been cleared for uses such as agriculture or destroyed by fire.
In an in-depth interview, Dr. Suzanne Simard -  the scientist who discovered the "wood-wide web" - speaks about mother trees, kin recognition, and how to heal our separation from the living world.
Scientists proposed 10 golden rules for tree-planting, which they say must be a top priority for all nations in the 2020s. Tree planting is a brilliant solution to tackle climate change and protect biodiversity, but the wrong tree in the wrong place can do more harm than good, said experts at the Royal Botanic Gardens, Kew. The rules include protecting existing forests first and involving locals.
There is growing interest in growing trees and maintaining woodlands, to the point where the likes of Brewdog have pledged to grow their own forest as a way to invest in carbon sequestration.
For Henry David Thoreau, trees were creative and spiritual companions, sane-making and essential. His love of them comes alive in Thoreau and the Language of Trees — a selection of his meditations on trees, drawn from his two-million-word journal by writer and photographer Richard Higgins, whose black-and-white photographs complement Thoreau's arboreal writings.
Psyche suggests that we think of an individual tree as a new acquaintance  - we can get to know its bark and its leaves, and its roots that snake along the ground. We can consider how it changes with the seasons – is it deciduous or coniferous, growing leaves in spring or putting on new growth? We can touch it, smell it, look carefully at the other species that colonise it: ants, ladybirds, birds. We can try and find out where it came from. Most of all, we can be with the tree, take the time to sit under it or stand next to it and really see it for what it is. 
Further reading:
2020
Underneath forests, fungal links create a network that connects trees to one another, even ones from different species, and allows them to share information. Ferris Jabrs' account in the New York Times analysed how trees stay in touch - and what they share with one another.
After visiting a two-thousand-year-old linden tree in England, William Bryant Logan explored the nearly forgotten practices of coppicing and pollarding, or cutting back a tree to stimulate growth, and discovered a symbiotic relationship between humans and trees.
The writer Maria Popova says that trees are unworded thoughts, periscopes of perspective. They are both less alive than we think and more sentient than we thought. In them, we see what we are and see what we can be. From them, we draw our best metaphors for love, for art, for happiness.
In an extended meditation on the relationship between place and intimacy, the body and the word, Carl Phillips walked among trees to explore what can and cannot be known.
Over the next decade, Salesforce plans to conserve and restore 100 million trees. Mastercard plans to reach the same number in five years. Timberland is also planting trees: 50 million of them. Clif Bar is adding 750,000. Microsoft, which plans to invest in reforestation as one piece of a strategy to become carbon negative, is developing technology for conservation organisations. The companies are among 26 businesses, organisations, and cities that make up the new U.S. chapter of 1t.org, the movement to plant and conserve a trillion trees globally. The new group is coordinating pro-forest efforts that have grown quickly over the last few years. It's designed to accelerate work to protect and plant trees, but also to make sure it happens strategically, reported Fast Company.
Further reading:
2019 and earlier 
Challenging us to travel to spend time with memorable trees, Salon argued that "our species doesn't have a great track record with trees.  Even a cursory look into the oldest, most interesting trees in recorded history reveals stories of thousand-year-old trees getting turned into picnic tables, a solitary tree in the middle of the Sahara getting run over by a drunk truck driver, and virgin European forests being decimated by the Romans for firewood and building materials."
See more:

Please see below selected recent equality-related change.
See also:
In figures:
January 2022
What's Changing? - latest updates