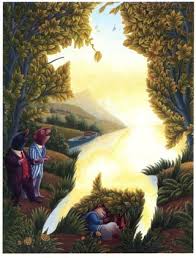 I have long been entranced by Pan, probably inspired - as I'm guessing many others have been too - by the beautiful and haunting passage in The Piper at the Gates of Dawn chapter of The Wind in the Willows.
" Trembling he obeyed, and raised his humble head; and then, in that utter clearness of the imminent dawn,
while Nature, flushed with fullness of incredible colour, seemed to hold her breath for the event, he looked in the very eyes of the Friend and Helper; saw the backward sweep of the curved horns,gleaming in the growing daylight; saw the stern, hooked nose between the kindly eyes that were looking down on them humourously, while the bearded mouth broke into a half-smile at the corners; saw the rippling muscles on the arm that lay across the broad chest, the long supple hand still holding the pan-pipes only just fallen away from the parted lips; saw the splendid curves of the shaggy limbs disposed in majestic ease on the sward; saw, last of all, nestling between his very hooves, sleeping soundly in entire peace and contentment, the little, round,podgy, childish form of the baby otter. All this he saw, for one moment breathless and intense, vivid on the morning sky; and still, as he looked, he lived; and still, as he lived, he wondered."