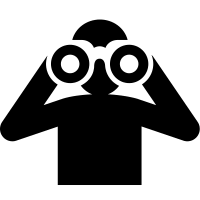 Please see below recent emerging trends.
December 2021
November 2021
October 2021
OpenAI shared plans for a global universal basic income. Lots of people didn't like what they heard. The new project is a cryptocurrency called Worldcoin, plus an innovative plan for rapid worldwide adoption: the currency is intended to be 'collectively owned', and everyone on Earth can claim a share, but to claim Worldcoins, people would have to first to stare into a metal sphere called the Orb, which will scan their eyes. Having registered their unique human identity,  they'd then be allotted their coins.
August 2021
July 2021
Launched in Atlanta, the Illuminarium offers high-definition video projected onto walls 22 feet tall and 350 feet wide, enhanced with multisensory features such as floors that vibrate and smells that permeate the space. The first experience is an African safari, and a Moon walk experience is in development.
Funded on Kickstarter, Terra Project aims to create a network of devices that track migration while letting people livestream nature's soundtrack into their home. After being placed in a backyard or other outdoor setting and hooked up to a wifi network, Terra's weatherproof, saucer-shaped device picks up bird calls and other wildlife sounds and broadcasts them to a user's speakers or headphones.
The extended reality (XR) industry, which includes virtual reality (VR), augmented reality (AR), and mixed reality (MR), which involves both virtual and physical spaces, is projected to grow from $43 billion in 2020 to $333 billion by 2025, according to a recent market forecast. Much of that growth will be driven by consumer technologies, such as VR video games, which are projected to be worth more than $90 billion by 2027, and AR glasses, which Apple and Facebook are currently developing. But other sectors are adopting immersive technologies, too. A 2020 survey found that 91 percent of businesses are currently using some form of XR or plan to use it in the future. The range of XR applications seems endless, according to Big Think.
June 2021
May 2021
April 2021
March 2021
February 2021
January 2021
December 2020
November 2020
October 2020
Big Tech offered us a deal and we took it, claimed New World, Same Humans - e.g. Amazon launched a range of new services, including an autonomous mini-drone for the home. At the heart of those services is a deal. We customers get convenience, Amazon gets unprecedented access to our private selves: homes, conversations, even heartbeats. That deal runs through much of what Silicon Valley has done to transform our lives across the last 20 years. There's even a name for all this: surveillance capitalism.
Couples are increasingly adding fines for breaching coronavirus rules to their wedding budgets, according to Greater Manchester's deputy mayor for policing. In England, weddings are limited to 15 guests. Fines start at £200 for the first offence but are halved for prompt payment. It has led those organising wedding celebrations to factor the charges into budgets.
Paris mayor Anne Hidalgo, who has been leading a radical overhaul of the city's mobility culture since taking office in 2014, embraced the notion of reshaping France's capital into a 15-minute city. The concept, which was developed by Sorbonne Professor Carlos Moreno, advocates the creation of a city of neighbourhoods, in which workers find everything they need in terms of work, retail and leisure within 15 minutes of their home. In a work context, this would see offices added to neighbourhoods that lack them so people could work closer to where they live. There would also be local co-working hubs, enabling them to come together for meetings and to collaborate when necessary.
Crowdsleuthing is the practice of internet users banding together, typically unbidden, in an attempt to solve mysteries and crimes (and occasionally to take justice into their own hands). The core concept isn't particularly novel, finding one of its origins in the anonymous tip lines like Crime Stoppers that gained popularity in the '70s, or the Unsolved Mysteries TV series, which premiered in '87. But with the emergence of social networks and digitised media, public involvement has increased exponentially, and has become more complex and consequential.
Synthesis is an Amsterdam-based wellness retreat claiming to offer the world's first commercial psychedelic depression therapy. The treatment is medically supervised by  a leading clinical psychologist at Imperial College London's Centre for Psychedelic Research, who uses psilocybin-infused truffles, which are related to magic mushrooms and legal in the Netherlands. Patients enter a 13-month course that includes monthly group therapy and a five-day retreat with two psilocybin sessions. Since the release of a groundbreaking study in 2016, more and more scientific research points at the medicinal and therapeutic benefits that psychedelic mushrooms can have on patients suffering from depression and other mental illnesses. A commonly cited reason for why psilocybin, the main psychoactive component of magic mushrooms, can be so effective is that it can 'unshackle' patients' minds - enabling them to see things in a different way, consequently leading to lasting shifts in their mindsets.
September 2020