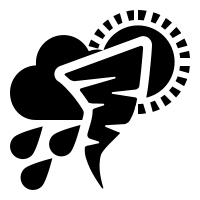 Please see below recent climate-related change, including key developments regarding the UN Sustainable Development Goal 13 - Climate Action.
Imagine a ship that is sinking and needs all the available power to run the pumps to drain out the rising waters. The first class passengers refuse to cooperate because they feel hot and want to use the air-conditioner and other electrical appliances. The second-class passengers spend all their time trying to be upgraded to first-class status. The boat sinks and the passengers all drown. That is where the present approach to climate change is leading - Buddhist monk Matthieu Ricard
See also:
September 2023
Of the 20 countries hardest hit by the climate crisis, 85% are in Africa, US climate envoy John Kerry claimed. Kenyan President William Ruto meanwhile claimed that climate change is holding back the continent's economic growth by 5-15% annually, despite the fact that the continent accounts for less than 4% of global emissions.
August 2023 was the second hottest ever recorded, with global temperatures exceeding pre-industrial averages by 1.5 degrees Celsius.
August 2023
Heatwaves may decrease the world's gross domestic product (GDP) by 0.66 percentage points, Allianz Insurance claimed. One day of extreme heat can be equivalent in economic terms to half a day of strike, although the impact varies across countries. Droughts, floods and wildfires damage crops and property. In extreme heat, people often work fewer hours, or make more mistakes. When temperatures hit 32C, worker performance drops 40%, and 66% after 37C. Tax revenues could be hit by such decreased productivity, one analysis noted, and public coffers could be diminished by rebuilding costs. Allianz called on cities to adapt to climate change, such as through the use of urban greening, improved working hours and better building technologies.
Climate litigation has become an integral part of securing climate action and justice globally, according to a report by the United Nations Environment Programme, which found that climate court cases had more than doubled in five years. The report highlighted a series of landmark rulings, including a Dutch court ordering oil giant Shell to slash its emissions. It was the first time a court found a private company to have a duty under the Paris agreement.
Experts claimed that droughts and seawater changes associated with warmer temperatures could cut US$3.5 trillion from global growth by 2030.
July 2023
June 2023
May 2023
A poll suggested that while many are in favour of government and individual actions to combat the climate crisis, there is less support for measures that would impact their lifestyle. A YouGov survey gauged backing of actions in seven European countries. There was stronger support for steps that would mean no major lifestyle sacrifice. For example, 77% of UK respondents said they would grow more plants themselves or were already doing so. However, just 27% were willing to only buy secondhand clothes. Legislation banning the production and sale of petrol and diesel cars was also not popular with respondents across the different countries.
April 2023
Scientists are concerned about the recent, rapid rise in ocean temperatures. Data showed that the temperature of the global sea surface hit a record high of 21.1C in early 2023. However, it's unclear to scientists as why such a rapid change is happening. Experts are especially worried as this warming is happening ahead of an anticipated strong weather event, El Niño, which heats the ocean.
March 2023
A UN report said the world has less than a decade to limit global warming to 1.5 degrees Celsius above pre-industrial levels (the 2015 Paris Agreement's target). Industrialised countries must halve greenhouse gases by 2030 and halt carbon dioxide emissions by the 2050s to avoid cataclysmic flooding, droughts, heat waves, and species extinction.
Good Business warned that, irrespective of whether we're heading towards 1.5C of warming, 2C, or more, climate change is already here and we're seeing weather events become more extreme and frequent as a result. The IPCC AR6 Synthesis Report showed the human and natural systems that are already adversely affected: the flooding in Pakistan, wildfires in California and Arctic heatwaves being just some recent examples.
February 2023
January 2023
"Climate quitting" means leaving a job for greener organisations, or going as far as changing career to focus on tackling the climate crisis. More than 24 million green jobs could be created globally by 2030. Closing this labour gap will require both new skills and people leaving their existing jobs for rapidly evolving industries, and it's already underway; in 2022 more people were employed by clean energy companies than by fossil fuel companies, according to the International Energy Agency.
2022 was the fifth warmest year on record. According to EU scientists, it was also the second warmest year on record for Europe.
Atmospheric dust might have distorted the impact of climate change. Global temperatures would have increased by an additional 0.1°F from pre-industrial levels had it not been for an increase in particles, noted Quartz.
November 2022
A major paper released on the sidelines of the COP27 climate summit in Egypt started a countdown: at the current rate of global emissions, the Paris Agreement goal of limiting global temperatures to 1.5 degrees Celsius above pre-industrial levels will likely be permanently out of reach by 2031, the study warned.
Data indicate that global warming will worsen health inequalities between rich and poor countries. Yet, there is still (some) hope: rising inflation propelled governments to cut back on fossil fuels, making the International Energy Agency optimistic that COP27 might be a "turning point" in the global transition to clean energy.
October 2022
September 2022
August 2022
Climate disasters tend to be expensive, and 2022 took an especially hard toll. Insured losses from natural disasters reached $35 billion in the first half of 2022, according to analysis from Swiss Re Institute. That's 22% above the 10-year average.
Climate change will affect agricultural production worldwide. Average global crop yields for maize, or corn, may see a decrease of 24% by late century, if current climate change trends continue. Wheat, in contrast, may see an uptick in crop yields by about 17%. The change in yields is due to the projected increases in temperature, shifts in rainfall patterns and elevated surface carbon dioxide concentrations due to human-caused greenhouse gas emissions, making it more difficult to grow maize in the tropics and expanding wheat's growing range.
July 2022
The very high temperatures that hit vast parts of the US, the EU, and China in mid 2022 have a common origin: a high-altitude air current configuration known as wavenumber 5, because it forms when the jet stream splits into five separate airwaves. Scientists are studying it closely, as well as a related 7-wave pattern and the dreaded "Omega Wave," which also causes extreme heat.
Following a massive meltdown across its ice sheet, over just three days in July 2022, Greenland lost 18 billion tonnes of water; that's enough to cover England in water roughly half a foot deep. And it didn't stop there. A satellite from the EU's Copernicus Earth Observation Programme captured vast streams of run-off water travelling towards the ocean on 23 July, at the height of the melting. Meanwhile, a paper in Nature Communications found that one in four of the world's population, or 1.8bn people, are now at risk of severe flooding. Floods could therefore become a mega-force that do much to shape the rest of the 21st century.
June 2022
May 2022
A paper in Nature Climate Change claimed that winter storms in the Southern Hemisphere are already at levels of intensity not predicted to occur until 2080. Researchers at the Weizmann Institute of Science arrived at the findings by analysing data generated by the 30 leading computational climate models.
April 2022
The UN's latest Intergovernmental Panel on Climate Change, at nearly 3,000 pages, was the most comprehensive analysis yet of what can be done to ward off dangerous levels of warming since the Paris climate accord was agreed in 2015. It was designed to help to shape climate policy debates for years to come. Its message is both stark and compelling. The window for limiting global warming to 1.5C is closing fast. Global emissions should ideally peak before 2025. Greener lifestyles can help, but more sweeping structural changes are needed. Gas, oil and especially coal use must fall steeply.
Gender inequality and climate change are closely intertwined. Due to their different and unequal social roles and status, women, girls and people of marginalised genders are disproportionately affected by climate change impacts, also differentiated by factors such as age, race, ability and location. They are also leading innovative solutions to climate change at all levels. Yet as the Glasgow Women's Leadership statement highlighted at COP26, there is still a lack of momentum for prioritising their knowledge, tools and leadership in climate policy and action. 
Methane, or CH4, accounts for 11% of global greenhouse gas emissions and lasts in the atmosphere for a fraction of the time of CO2 (10-20 years versus hundreds of years), yet accounts for at least 30% of climate change. It is a far more potent greenhouse gas than CO2 (30-80 times more potent). 
March 2022
February 2022
January 2022
December 2021
Insurance claims from extreme weather events linked to climate change topped $100 billion in 2021. The most expensive single event was Hurricane Ida, which hit the US Northeast, causing $65 billion in damages.
November 2021
October 2021
Greenhouse gases are headed in the wrong direction, according to a United Nations report that said that the world is "way off track" as carbon dioxide levels broke records in 2020.
China published a long-awaited plan for how it intends to reach carbon neutrality by 2060. It touched on three big questions about China's decarbonisation, when its emissions will peak, at what level and how fast they will fall after that.
Quartz noted that The Gambia is the smallest country in mainland Africa, and it produces less than 0.01% of global annual emissions, but it's still taking steps to decarbonise - making it perhaps the only country on Earth where those steps match its contribution to the problem. Nepal, Kenya, and Ethiopia aren't too far behind.
September 2021
August 2021
US government scientists announced that July 2021 was Earth's hottest month ever recorded; modern records stretch back to 1879. The global land and ocean surface temperature was 0.9C higher than the 20th-century average of 15.8C.
A major climate report described as a "code red for humanity" warned that global warming has already had an "irreversible" impact on the planet including the oceans and polar ice caps. The UN's Intergovernmental Panel on Climate Change (IPCC) predicts temperatures will be 1.5C higher than 1850-1900 levels by 2040 but says it is still possible to stay below this with significant cuts to global emissions before 2030. The report said:

It is "unequivocal" that humans are warming the planet and have likely caused rapid changes to the climate.
Stabilising the global rise in temperatures at 1.5C is possible, but will still result in increasing heatwaves, droughts and floods.

Global warming is already affecting weather and climate extremes around the world, and hot extremes have become more frequent since the 1950s.

It doesn't rule out a 2m rise in sea levels by the end of the century.
July 2021
June 2021
May 2021
April 2021
March 2021
February 2021
January 2021
December 2020
October 2020
September 2020
August 2020
July 2020
June 2020
May 2020
Khatanga is an old cold war outpost in the far north of the Russian arctic, with a giant runway and a modest hotel now used mainly by sledge-haulers trying their luck with ice floes and polar bears. The average temperature there at this time of year is zero degrees C. The record high was 12 degrees, until May 2020, when the mercury reached 25.4, reported Tortoise. 
April 2020
If countries fail to meet the pledges of the Paris climate agreement, the global economy could lose out on $600 trillion by the end of the century. That's according to a paper in the journal Nature Communications that quantified potential benefits for governments of working together on "self-preservation strategies" – and the costs of not doing so.
January 2020
95% of the oldest, thickest sea ice has disappeared since 1984.

? Read more: https://t.co/xxsCvprDPl pic.twitter.com/J8YUbvl8bK

— World Economic Forum (@wef) November 19, 2019
December 2019
November 2019
Global temperatures are on track to rise around 3.9 degrees Celsius by the end of the century (7 degrees Fahrenheit), which would have disastrous implications, according to a United Nations report. Increasingly acidic oceans could dissolve all coral reefs, and severe heat, already extreme in many regions, would become intolerable.
Italy became the first country to introduce compulsory education on climate change. From September 2020, schools are obliged to include about one hour a week in their curriculum, alongside teaching core subjects such as Physics, Maths and Geography through a sustainability lens.
Parts of Canada are heating up at a level more than double the global average. The province of British Columbia has around 17,000 glaciers. They're releasing 22 billion cubic meters of water each year. Some scientists even predict that they could have disappeared completely by 2030. 
October 2019
September 2019
The winner of The Economist's Open Future Essay Competition 2019, argued that we should make a healthy climate a legal right that extends to future generations. The slow-onset nature of climate change, and the difficulties of establishing accountability from one generation to the next, make it necessary to develop and adopt new legal principles that articulate the rights and obligations underpinning intergenerational equity. Formal recognition of the rights of future generations would expand the scope of climate litigation and allow present-day litigants to sue on their behalf.
The world's readiness for the inevitable effects of the climate crisis is "gravely insufficient", according to a report produced by the Global Commission on Adaptation, convened by 18 nations . This lack of preparedness will result in poverty, water shortages and levels of migration soaring, with an irrefutable toll on human life". Trillion-dollar investment is needed to avert "climate apartheid", where the rich escape the effects and the poor do not, but this investment is far smaller than the eventual cost of doing nothing. The study says the greatest obstacle is not money but a lack of "political leadership that shakes people out of their collective slumber". A "revolution" is needed in how the dangers of global heating are understood and planned for, and solutions are funded.
While we busy ourselves greening our personal lives, fossil fuel corporations are rendering these efforts irrelevant, warned The Guardian, which after analysing the breakdown of carbon emissions since 1988, concluded that a hundred companies alone were responsible for 71%.
August 2019
Richer nations tend to politicise the climate change while poorer nations more often present it as a problem of international concern, according to a study published in the journal Global Environmental Change. Researchers analysed more than 37,000 news articles from 45 countries and territories using computer algorithms and found that the strongest predictor of how a given country's press will cover climate change is Gross Domestic Product per capita. In short: the way a country's media reports on global warming is based on the resources available to combat it.
July 2019
Scientists tracked in 2019 an unprecedented number of fires burning north of the Arctic Circle in Greenland, Russia, Canada, and Alaska after a record summer heatwave. By one estimate, the fires released more carbon dioxide than Sweden's entire annual emissions in one month alone. This problem increases the risk that politically disruptive effects of climate change – like mass migrations or geopolitical competition for ice-free Arctic sea lanes and undersea resources – will arrive (much) more quickly than expected, noted GZEROMedia.
June 2019
Chatham House examined the increasingly urgent narrative surrounding climate change and the role of the corporate sector in helping avert the climate crisis. How, if at all, are strikes, protests and the new state of emergency reshaping consumer expectations, corporate strategy and public policy on environmental issues? What new business models and frameworks can private enterprises develop to help contribute to climate governance? And to what extent can businesses provide genuine leadership on climate change?
Compost may be a key part of the solution to addressing climate change, but large-scale collection of food scraps, yard trimmings, and even human bodies poses a huge logistical challenge. Cities like Seoul, South Korea, which recycles 95% of its food waste, are proving it's possible, while sites in Sweden, California, and New York are turning egg shells and carrot tops into biogas and saving money in the process.
May 2019
March 2019
It may be human nature to rejoice in sunshine and balmy breezes, but when the cause is climate change, days much hotter than the seasonal average can spark anxiety, too. Quartz asked scientists and philosophers about how to deal with this cognitive dissonance, and how to channel our emotions toward action.
The Little Ice Age is term that often refers to a moderately cold period in the 17th and 18th centuries that hit Europe especially hard. But it may have gone as late as the 19th century and began - or was at least triggered - in the 13th century. Either way, the Little Ice Age caused famines, sparked witch hunts, altered wars, toppled dynasties, and may show us what lies ahead with climate change, according to Quartz.
Students around the world have gone on climate strikes. Inspired by Greta Thunberg, a 16-year-old Swedish climate activist nominated for the Nobel Peace Prize, students in more than 100 countries have held massive school walkouts to protest climate inaction.
January 2019
December 2018
At the COP24 meeting in Poland, nearly 200 countries agreed to rules for how they'll adhere to the Paris climate agreement. The rules define how nations will record their emissions and their progress toward climate goals.
Chatham House argued that civil society has proved to be particularly effective at harnessing complex narratives such as climate science, and at leveraging an emerging multi-level governance architecture to create political space for climate leadership. Given today's challenging geopolitical conditions and the evolving nature of the international climate regime, the thinktank argued further that civil society must now once again recalibrate its strategies to ensure continued and increasing relevance.
GZEROMedia noted that the problem of climate change can't be addressed without shared sacrifice among nations, a hard political sell even in the most harmonious times. But President Trump's assault on the 2015 Paris Agreement inspired others, like Brazil's 2018-elected president, to throw cold water on efforts to jointly combat global warming.
Worldwide carbon dioxide emissions rose nearly 3% in 2018, the second annual increase in a row after three relatively flat years, according to the Global Carbon Project. Those conclusions are in line with a separate analysis from the International Energy Agency, which found that rich nations in North America, Europe, and the Asia Pacific region saw an overall emissions uptick of 0.5% in 2018, following five years of declines.
Like its 1930s counterpart, noted The Intercept, a proposed "Green New Deal" isn't a specific set of programs so much as an umbrella under which various policies might fit, ranging from technocratic to transformative. The sheer scale of change needed to deal effectively with climate change is massive, requiring economy-wide mobilisation of the sort that countries like the United States haven't really undertaken since World War II. 
The need to act on climate change has become so urgent that mainstream voices are calling for civil disobedience to address it, warned Forum for the Future. The IPCC's latest report warned that we only have 12 years to keep global warming within 1.5°C. In the UK, the non-violent group Extinction Rebellion called for 'low level and higher risk acts of civil disobedience', and is backed by 94 prominent public figures, including MPs, MEPs, academics and religious leaders.
BCG argued that there are clear paths for most countries to achieve substantial reductions in greenhouse gas emissions that can generate near-term macroeconomic payback. Just about all leading emitters could eliminate 75% to 90% of the gap between emissions under current policies and their individual 2050 2°C Paris targets using proven and generally accepted technologies. If they prioritise the most efficient emissions reduction measures, taking the necessary steps will actually accelerate, rather than slow, GDP growth for many countries. All countries can generate economic gain by moving at least part of the way - even if they move unilaterallym believes BCG.
Crop yields are projected to come under pressure as global warming accelerates. Understanding when, where and how is critical to feeding the world in the decades to come, warned the Financial Times. US field crop agriculture is the most productive on earth. Tens of millions of tonnes of exports make it important to the rest of the world. Climate change is set to alter growing conditions for these crops. Effects will vary by region and crop variety, but net productivity will fall.
Maersk, the world's largest shipping liner company, will target zero carbon emissions for 2050. Laudable, but not fast enough, for Exponential VIew, as we need to get to net zero by 2035-2040 to avoid 2° warming.
Governments may need to redesign tax systems to support the fight against climate change. The tangible effects of climate change are an ever-growing challenge that society has to face, so in a fast-changing world, tax systems need to adapt too.
Further reading:
November 2018
The RSA argued that the circular economy is seen as one route to sustainable development and the improvement of livelihoods in the Global South: an economy where every element of every product is reused is an especially appealing concept as we respond to the IPCC's recent urgent warning on climate change.
Humankind, according to Rolling Stone journalist Jeff Goodell, must face the scientific fact of sea-level rise due to global warming: rising seas will drown coastal cities, displacing hundreds of millions of people and causing trillions of dollars in damage. Storm surges - sometimes driven by hurricane winds –- are already flooding homes and businesses, bringing misery, pestilence and disease. Modern people - unlike their seawise ancestors - cling to coastal land, barricade it and build vulnerable fixed infrastructures like nuclear power plants. Inevitably, Goodell says, as soot-darkened glaciers melt at an unprecedented rate, "the water will come." The author travelled widely to understand this unfolding catastrophe-in-the-making, speaking with its victims and with those who have the agency to limit its effects. 
Further reading:
October 2018
September 2018
Thousands of executives, local politicians, and activists gathered in San Francisco to fuel momentum for the fight against global warming, a counterpoint to Donald Trump's plans to pull the US out of the Paris climate accord.
The Bank of England warned that not enough banks are planning for long-term climate change risks that could have a destabilising impact on the financial system. Further questions have also been raised about the importance of incorporating climate considerations into the regulation, supervision and oversight of financial markets and institutions.
Further reading:
August 2018
July 2018
June 2018
May 2018
April 2018
March 2018
February 2018
January 2018
Pre-2018
Glacier shrinkage, combined with melting of the polar ice caps, pose three main threats: raising sea levels; disrupting ocean current circulation and losing freshwater stores. The threat of the Greenland ice sheet slipping ever faster into the sea because of warmer summers was challenged in a scientific study.
What if William Wilberforce had said: "Could you just cut down a bit? Own one slave instead of two?"  Fair point, is the environment the biggest threat the world faces - in which case it's elected governments, not just individuals - who should be acting now - or do the less appetising aspects of our human nature - laziness, poor attention, indifference and prevarication - just mean that we can't prepare for a crisis in advance, but will just have to try and deal with it when it arrives? Do we really care that there might be a "perfect storm" in 2030?  Are we suffering from "perverse cosmic myopia" when it comes to the biggest problems - financial as as well as environmental -that we are facing?
An international wildlife study suggested that climate change and overharvesting are already causing species to dwindle.